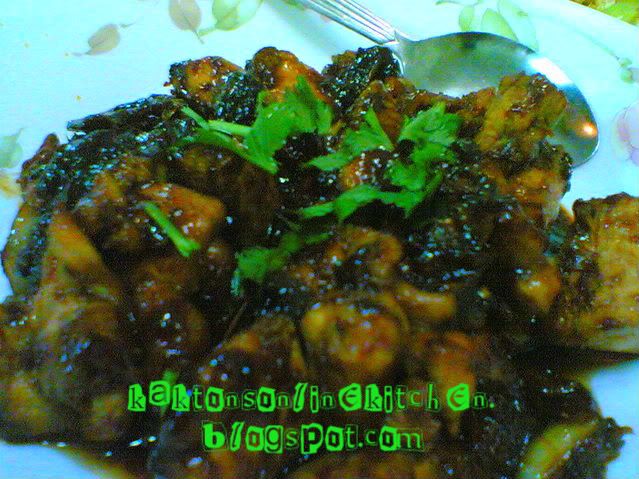 Bahan-bahan:
12 keping kepak ayam (belah dua jadi 24)
2 sudu besar minyak masak
3 ulas bawang putih - diketuk dengan kulitnya sekali (tak perlu kupas)
1 sudu besar halia dicincang
1 sudu besar sos ikan
1 sudu besar kicap
1 sudu besar sos cili
1/4 cawan (60ml) madu

Panaskan minyak dalam kuali. Masukkan bawang putih, halia dan chicken wings, kacau dan goreng selama 5 minit.
Masukkan semua sos dan madu, kacau sekejap, kemudian tutup kuali. Kacau sekali-sekala selama 15 minit atau sehingga semua wings masak dan browned (bersalut dengan sos).
NOTA : Bila dah masuk madu, sos akan berbuih. Jangan takut bila tengok sos macam hangit towards the end. Bila sos dah agak kering dan bersalut pada wings ia akan jadi sticky dan caramelized macam barbecue chicken. Sedap sangat!
Gambar diatas: guna chicken pieces instead of wings..(itu yg ada dlm fridge!), sodap jugak..